Gia Lam urban area, Science and entertainment parks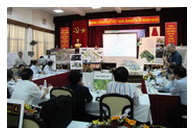 On May 30-31, 2009, in Ha Noi, Vietnam Infrastructure development and Finance investment (VIDIFI, JSC.), in conjunction with Architecture Magazine and Architectures' Association, organize a ranking conference of concepts in "Architecture planning concepts contest for the new urban, entertainment area, industrial park in Gia Lam, Ha Noi".
Leaders of Vietnam Development bank (VDB), VIDIFI, representatives of VIDIFI's shareholders including Saigon Invest Group, Vinaconex are invited to attend the conference.

The project for the new urban and scientific park in Gia Lam, Ha Noi is located in Ha Noi to the East with a tentative area of approximately 1.200 ha and population of approximately 50,000 - 60,000 people (scheduled figures are shown as 100m3 - 150m2/person) including the current residents. The contest is organized under the form of international limited competition with the participation of highly reputable consultants nationwide and worldwide.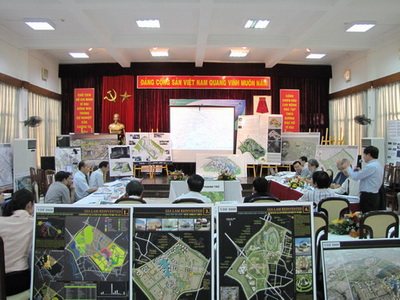 The concepts applied for "the Architecture planning concepts contest for the new urban, the entertainment, scientific park in Gia Lam, Ha Noi".
After 3 months from the launching ceremony (from the date of February 25, 2009 to May 31, 2009), there are 10 reputable consulting agencies nationwide and worldwide participating in the contest. The organization board has received 08 eligible planning concepts of the 08 consulting units as follows:
MQL architecture, urban planning Joint stock company (Viet Nam);

Surbana International consultants ptd.ltd and VCC consortium – Ministry of Construction (Singapore & Viet Nam);

Deso Associes (France);

Hager International AG (Swiss);

PDI Word group LLC in consortium with Ha Noi Architectural University;

Accademi Limited Company (Italia);

VINACONEX R&D Construction investment consulting and new technology application in consortium with DISSING + WEILING ARKITEKTFIRMA A/S (Viet Nam and Denmark);

Urban and Rural architecture planning Institute – Ministry of construction in consortium with WATG (Vietnam and United States of America)
Upon the assessment of experts, the contest has successfully produced prominent architecture concepts. On a basis of 8 selected concepts, the selection board will choose the most optimal planning concept as to bring into existence a modern, environment-friendly new town which will produce big profits for the investors. In June, 2009, the organization board will organize an exhibition in order to introduce awarding concepts and give awards to them.
The contest has produced creative, practical and interesting concepts from the investors nationwide and worldwide for the purpose of seeking the most optimum planning concept for the construction of the new urban, entertainment and scientific park in Gia Lam, Ha Noi, in compliance with regulations guided by the people committee of Ha Noi city and investment target of Vidifi; also choose an implementing unit in the next steps according to the selected concept. The project not only contributes to creating a new image but also speed up the development of economy and society in the East of the Capital.
Vidifi.,jsc