Vidifi Duyen Hai Investment Joint Stock Company
VIDIDI Duyen Hai Investment Joint Stock Company, an affiliated company of Vietnam Infrastructure Development and Finance Investment Joint Stock Company was established under Business Registration Certificate No. 0201086857 dated 15 June 2010
by Hai Phong Planning & Investment Department with two founding members, i.e. Vietnam Infrastructure Development and Finance Investment Joint Stock Company (VIDIFI) and Transport Engineering Construction and Mechanics Joint Stock Company.
The Company's task is to carry out the construction of infrastructure accompanying with the Hanoi – Hai Phong Expressway Project under Decision No.1621/QD-TTg dated 29 November 2007 by the Prime Minister; invest in construction of accompanying infrastructure projects for industrial parks, urban areas, services areas, etc along the Hanoi – Hai Phong Expressway Project to bring into full play the potentialities of the localities where the Expressway goes through and recover the capital for the Expressway Project.
- Invest in other projects to take full use of the advantages produced by its shareholders.
- Establish strategic relationships with major local and international economic groups and financial institutions for mutual development. With its increasing efforts, VIDIFI Duyen Hai tries to become a corporate running its business efficiently and developing in a sustainable manner towards the market and international integration.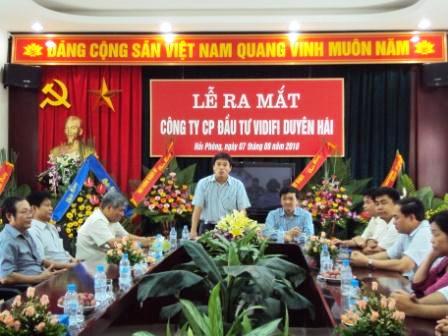 In short term, VIDIFI Duyen Hai will focus in the execution of the projects in accordance with Decision No.1621/QD-TTg, e.g. Cau Cuu Industrial Park, Nam Hai Urban Area, Hung Dao Urban Area and logistics projects along Hanoi – Hai Phong Expressway Project such as Nam Hai port, Service Area in Dinh Vu intersection.